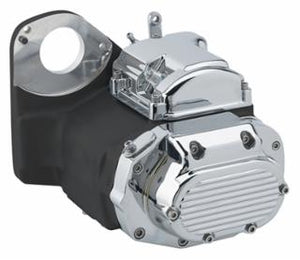 ULTIMA BLACK 6 SPEED TRANSMISSION FOR HARLEY SOFTAILS 1990-99 & CUSTOMS
ULTIMA Black 6 SPEED TRANSMISSION 
Part # 201-58
IN STOCK & READY TO SHIP
Fits 90-99 Big Twin Softail models & custom applications that use a 90's style drivetrain
The Ultima Six Speed transmisssion was designed to provide a simple, low cost, 6 speed overdrive solution for 1990-1999  Softail owners.
We strongly recommend that this transmission be installed by a qualified technician with knowledge of the Harley Softail style transmissions.
Speedo recalibrator will likely be required. 

Features:
Chrome Covers & Trap Door
Roller Detent for smoother shifting.
Steel shift forks.
Precision Ground 8620 Gears and shafts.
Chrome Plated Billet Trap Door.
Gear Ratios:
1st = 2.94:1
2nd = 2.21:1
3rd = 1.57:1
4th = 1.23:1
5th = 1:1
6th = 0.86:1