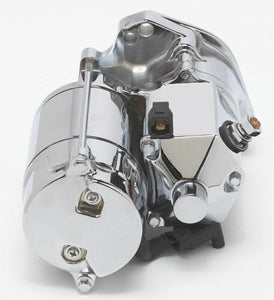 Ultima 1.75kw Chrome Side Post Heavy Duty Starter for Harley Big Twin 89-06
Ultima 1.75kw Side Post Chrome Thunderfire Heavy Duty Starter for 1989-2006 Harley Big Twin
Great upgrade for stock and 1.4kw starters
These Starters are built with all new parts, not re-manufactured like some of their competitors. With improvements made to the key components in these starters, the end result is long-life and exceptional performance that you can count on. 
Fits stock applications on Big Twins where 3/4" longer body is not a problem.
Each starter is individually tested with data sheet included.
Includes both size starter bolts for 93/Earlier & 94/Later applications